Our Work
We come alongside community members and meet them where they are. By starting with what they have and partnering with them to fill in the gaps, it is our goal to find dignity embracing solutions to their very real challenges.
For we are God's handiwork, created in Christ Jesus to do good works,which God prepared in advance for us to do. Ephesians 2:10 NIV
---
Samuel's Cow
Nancy visited Samuel in March of 2018 and discovered his cow had died and he and his children were grieving the loss. Samuel shared that he was very concerned about how he would be able to provide for his family without the milk from the cow. During an August 2018 trip Kevin and Nancy visited Samuel to find out that he had been saving for a new cow and had accumulated $250. Samuel was confident that God would eventually provide for a new cow and we joined him in prayer for that provision. After seeing Samuel's prayer request on Facebook, a friend from Florida offered to partner with Samuel in order to purchase his new cow. Sue contributed $300. Samuel received dairy farming training from a local organization first and then Pastor's Francis and Joseph took him to purchase his cow, which at the time was four months pregnant. We are thrilled to bring Sue and Samuel together in a partnership that brings hope, dignity and independence!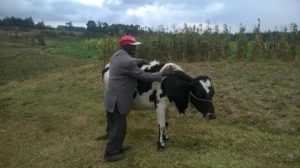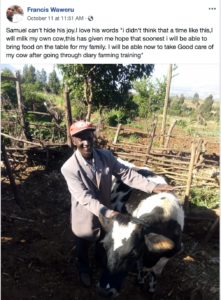 ---
Stephen's Potatoes
During our August 2017 trip to Kenya, Kevin and I visited with Stephen, a widower in Pastor Francis' DOWM program. Stephen was in his late 60's and caring for three children, one of them physically and mentally handicapped. When we sat down to ask Stephen about his desires for the future he shared with us his current inability to purchase seeds due to a $15 debt. Through Pastor Francis, we helped pay off Stephen's debt and also helped him to purchase more seeds. Five months later we received a text with this picture and note from Pastor Francis.
         
Kevin and I were humbled at Stephen's generosity in wanting to share his abundant crop with both us and the other members of the DOWM program. Stephen's potatoes remind us of how a very little bit of our resources can go a very long way in this community. We also continue to learn about the role we can play in achieving hope and dignity for our brothers and sisters in this community. We sow the seed God supplies to us and He gives the increase! (2 Cor. 9:10, Mark 4:8)

---
Ruth's Request
Ruth has a very special place in our heart. We visited her in her home in August of 2017 right after she gave birth to a beautiful baby. When we visited her again six months later, we had the privilege of being present when she accepted Jesus as her Savior. During a third visit in September of 2018, Pastor Francis informed us that Ruth wished to be the first student at the Vocational School that we plan to bring to the community. Ruth, a widow with four dependents, has already started to save money from working in the fields in order to take a dressmaking class. Ruth's investment in herself and her children's future inspires us to continue our investment in this community! We can't wait to see Ruth behind a sewing machine making dresses and clothing for her children.

---
Rebecca's Shamba

Kenyan's call their small 2-3 acre plot a shamba. It's a piece of land that is cultivated for growing food for family consumption. Sometimes, if the rains come, there will be extra for selling. Our friend Rebecca is a widow in her 70's who grows corn and potatoes on her shamba. During a visit in March of 2018, Nancy helped some of the men from the community plant seeds on Rebecca's plot. The men had recently received agriculture training and were applying what they learned in Ruth's shamba. Side by side pictures show the difference in the field where the training was applied and the field that was planted the traditional way. We are so encouraged that the community is eager not just to receive training, but also to share with others what they are learning. We believe that training is the key to raising the standard of living in this community above the poverty level.
"He who supplies seed to the sower and bread for food will supply and multiply your seed for sowing and increase the harvest of your righteousness" (2 Corinthians 9:10 ESV).