We recently wrapped up our first year as a non-profit organization and we would like to take this time to share with you what God has been leading. The past year has been filled with both challenges and steps forward. Let's begin with the challenges. The first challenge has been our inability to purchase land in Kenya with both a good location and a reasonable price. This may seem like a rather easy thing to accomplish. However, working in a foreign domain from the US has presented significant obstacles that still need to be overcome. The second challenge has been the withdrawal of a significant partner, one who has an existing structure in place on the mountain that we had hoped to join efforts with. This has caused us to revisit how we plan to operate our ministry on the mountain. The third and final major challenge has been not having dedicated staff on the ground in Kenya. This has caused many delays. We have been able to move things forward during our visits to Kenya, but our trips are often limited to short visits once or twice a year and can be restrictive due to the availability of scheduling with our partners in Kenya.
The exciting news is that these challenges have led us to modify our short-term mission strategy. We feel the modifications we have made will serve the community in the short-term while we continue to work towards the long-term vision. The short-term modifications include the following: First, we have decided to roll out a scholarship program that will allow people on the mountain to receive vocational training prior to us building a training center on the mountain. Second, we have hired a Program Development Manager in Kenya to manage our activities there. We are thrilled with the life experiences and the passion that Jane brings to the organization. Please read more about Jane on page 2.
We believe these changes will enhance the organization's effectiveness because the information we collect from scholarship applicants will help direct the long-term vision. We will now be able to get a better understanding of the need for and the types of training that are desired by the residents, as well as how willing the residents are to invest their time and treasures in pursuing training. Having Jane on the ground organically makes the process much more personal and expedient. Technology allows us to communicate in a timely and consistent manner and we are already seeing wonderful results with Jane in the mission field. We have already begun to grant scholarships to students and as of this writing have our first two students at school. These short-term adjustments in no way jeopardize our long-term vision to build a vocational training center to serve this region of Kenya. In fact, we think they enhance and inform the long-term vision. We will continue in pursuing land opportunities and funding for a vocational training center.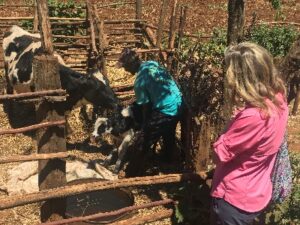 This past spring, during our most recent visit to Kenya, we had the opportunity to see our friend Samuel's calf being born. It struck us at that time how new life is both beautiful and messy. We watched in awe as the calf tried to get it's legs under itself. We saw hope and excitement on Samuel's face as he helped the calf to stand. This year our ministry has felt a bit like the new calf trying to stand on it's own. It's been both messy and beautiful. There have been many times when we have felt God's arms propping us up as we get our feet underneath us. We are thankful for the challenges because they have caused us to think differently, to stretch and grow in resiliency. We are confident the challenges have directed us not just to a new, but a better path.
As we begin our second year of ministry, we would like to thank you for your spiritual and financial support as we continue on this journey. The commitment of our monthly donors has allowed us to invest in dedicated staff on the ground in Kenya. Without your prayer and financial support, we would not be successful. We pray that you will continue to support us in this way, as you feel led. We look forward to sharing the stories of a few of our scholarship recipients and the impact training will have on them, their families and their community.
Introducing Jane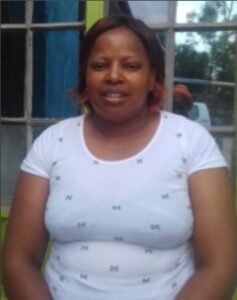 My name is Jane. I come from Central part of Kenya, where I grew up. I come from a big family of seven sisters and seven brothers. I grew up in a community whereby we did a lot of activities both at home and school. These included hand craft, modeling, carving, knitting, weaving, etc. Some of them were fun but others were not, but all in all, I grew up with some skills. When I finished my grade 8 studies, my parents could not afford to take me to High School thus I moved from home to the city to look for a job. Without much education I could not get any job, beside being a house help. Where I worked for about four and a half years.
It was not easy at all but I kept pushing forward until the thought of taking a vocational training came in my mind. I took a dressmaking course (tailoring) which would take only two hours a day since I was working somewhere. I was able to finish it by six months, and from there I kept on working under somebody until I had the experience and courage to start my own business. And after six months I started training other women. After getting married, we moved to the mountain where our home was. It was hard since I had to walk a long distance to get to my job. After a few months we moved back to Maai-Mahiu where I continued with my business. I was in that business for seven years and it catered for ALL my needs.
Now I am married to Joseph, mother of David and Grace, a teacher to teenage girls in our church and doing a little bit of sewing (not for business) but to remind myself when I have time. I have been on the mountain several time to see the widows there, and I sympathize with them to see how they are living with struggles of this life. My wish is that they will get the training and by doing so they will be able to sustain themselves. I was there once but everything changed when I had the training and somebody was willing to hold my hand (get me started) until I stood on my feet. So, there is hope. Never give up. And I have to mention this: Nobody helped me to pay for the training; the little I was getting took care of the training.
"The LORD has done great things for us and we are filled with joy" – Psalm 126:3
For His glory,
Kevin & Nancy Sell
Founders
Hearts of Hope International, Inc.
---