For we are God's handiwork, created in Christ Jesus to do good works,which God prepared in advance for us to do.

Ephesians 2:10 NIV
We come alongside community members and meet them where they are. By starting with what they have and partnering with them to fill in the gaps, it is our goal to find dignity embracing solutions to their very real challenges.
ESTHER'S STORY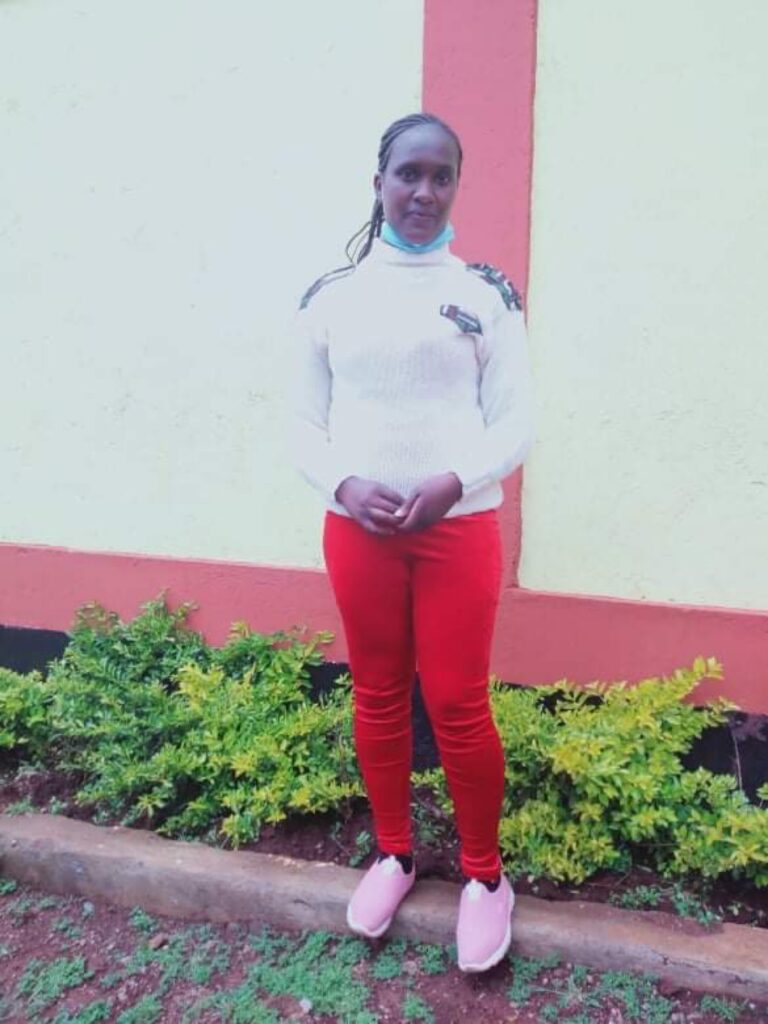 Esther is 23 years old and currently studying cosmetology at a vocational school. Esther is very active in her church leading the youth brigade. She takes any work she can get in a local salon to pay her bus fare to school. Esther is described by our Project Manager as being mature far beyond her age as well as committed, responsible and hard-working. She gets good grades and is smart in class. Esther said she can't take this opportunity for granted because she has really hustled trying to get to college. She is willing to do anything to finish her course since she had prayed for a long time for God to open a door for her to join college.
Here is Esther's story in her own words: "My name is Esther. I was born in Matathia in a family of two. I went to Mbau-ini primary school and later on joined Kimende High school. After my high school education my mom took me for a computer class. My mother could not do more than that, so I started working as a house help to sustain myself and also to help my family (my mom being a single mother). From there I started working in a salon. It has been my dream to go to a college, and when I heard about Hearts of Hope, I was happy because to me it was a prayer answered. I have been trying to to raise money to go to college but in vain. If given a chance I will work hard and I will not let you down. Thank you very much."
BARB'S LEGACY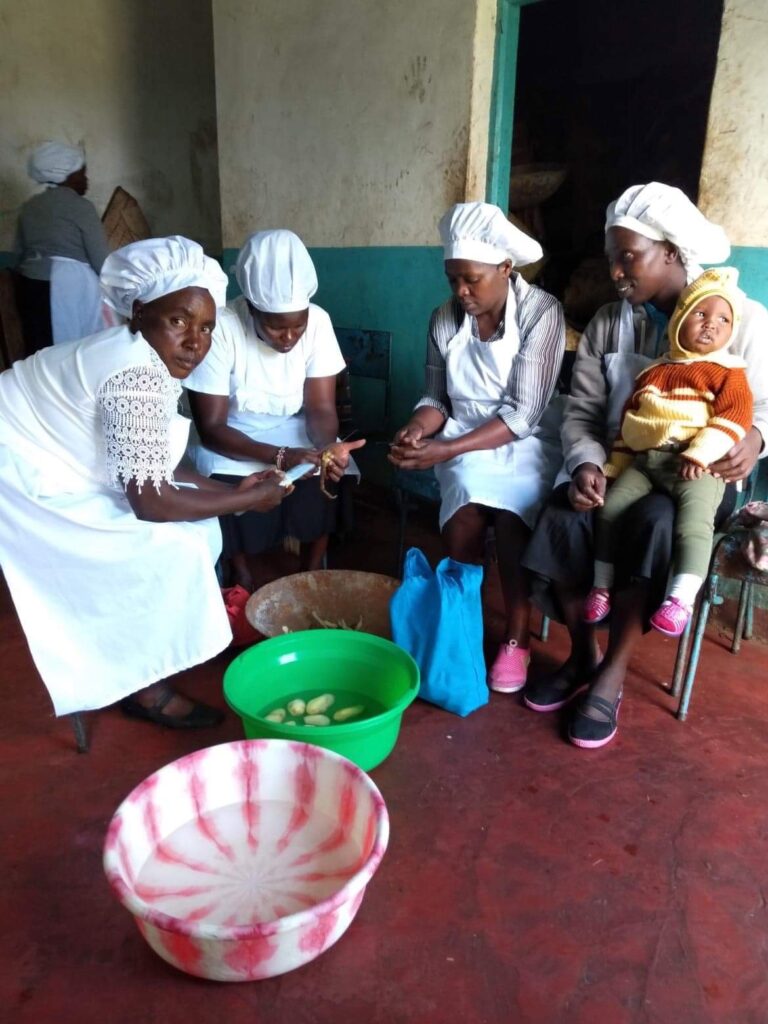 In honor of Barbara Sell, the mother of Hearts of Hope International co-founder, Kevin Sell, we offered two courses on catering to a total of 50 women over 30 years old. Each women contributed 20% of the cost of the tuition and generous donors from Barb's Pasties and Pizza sponsored 80% of the cost of the class. We hired a teacher and rented a hall from a local church. Supplies were purchased locally, and most of the produce used was purchased directly from the students as they all have small family farms. The ladies studied theory and enjoyed the practicals. They even learned to make spaghetti, pizza, and rice pilaf along with traditional Kenyan dishes. We enjoyed a 100% completion rate as well as requests from the community to offer an additional classes! We are thrilled that the cohorts of students really bonded as they formed new relationships in their community. Ten of the graduates have joined together to start both a savings group and a catering business. They have enjoyed marketing and growing the business, buying uniforms and equipment, and have catered several local events in their community. The ladies hope to rent space in a local market area to build a bakery and small restaurant. We think this is a great way to pay tribute to Barb and can't wait to see how far these ladies will take their training!
SAMUEL'S STORY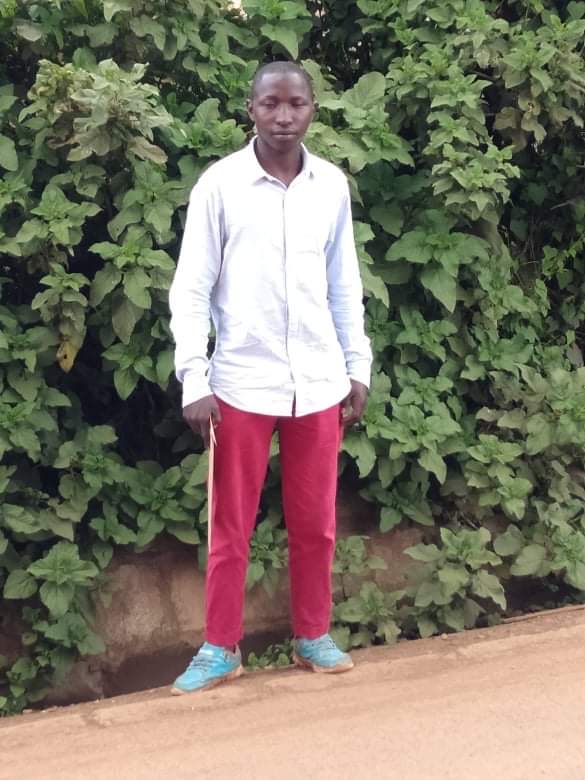 Samuel is 24 years old and a husband and father of a young baby boy. He lives in his family home with his parents, wife and child. Samuel's pastor describes him as committed, diligent and of noble character. Samuel is hard working and takes day jobs when he can find them to support his wife, child and parents. Samuel is currently receiving training to become a truck driver. His hope is to be able to offer driving services to his community once he completes his training.
Here is Samuel's story in his own words: "I take this opportunity to thank Hearts of Hope International for giving me this opportunity to join a driving school. Since I left high school I wanted to join driving school but I could not afford because of financial problems and we have other siblings who are in school. When I heard about Hearts of Hope, I knew God had answered my prayer. Since I left school it has been three years. I have seen my friends in another level which I am not in and I feel discouraged. But all in all I can now do what I love most which is driving career. My course will take a short time and I will be able to attain my driving to be able to earn a living through this job and also help my parents and the community in various issues which may require my help. May God bless all of you who take this part in attaining my scholarship."
HANNAH'S HOPE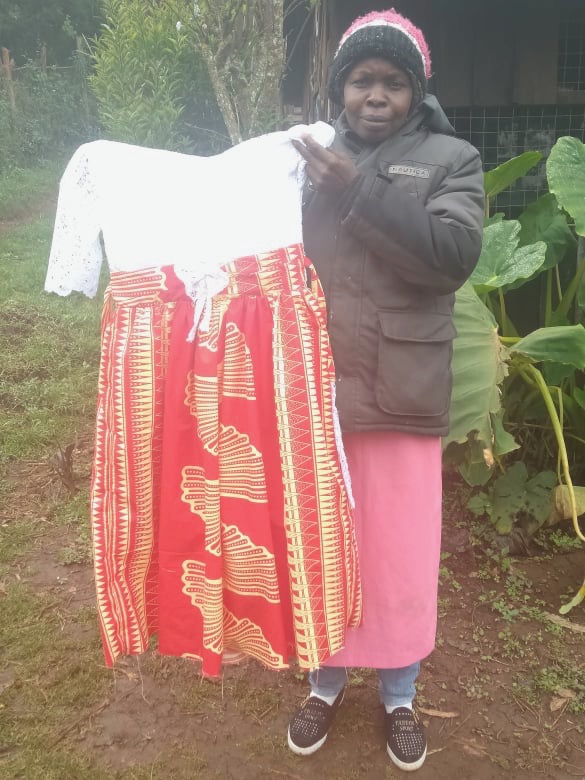 Hannah recently completed her apprenticeship training to become a dressmaker. Her perseverance truly inspires! She was 50 years old and a widowed mother of four boys when she decided to apply for a scholarship to acquire a marketable skill. Hannah proves that you are NEVER too old to learn or to dream! Hannah is currently working to gain business experience and hopes to open her own dressmaking shop in the future.
We think Hanna tells her story the best: "When I was young, I could not continue with secondary education because my parents could not afford it since I had many brothers and sisters. I stayed home with my parents helping them to take care of my younger siblings. Later, I went to work as a house girl and it's during that period I got married. He came from a humble background, meaning we were struggling but I persevered. We were blessed with four boys. I continued doing casual jobs like doing laundry and also working in people's homes. I never gave up. I was hoping to get a job so that we can take good care of our children but it was not possible. My husband later died leaving me with the children alone. I took two of my children to my parents after I became sick. If I get a training course my life will change and I will be able to educate my children. God bless you, yours Hannah."
GRACE'S STORY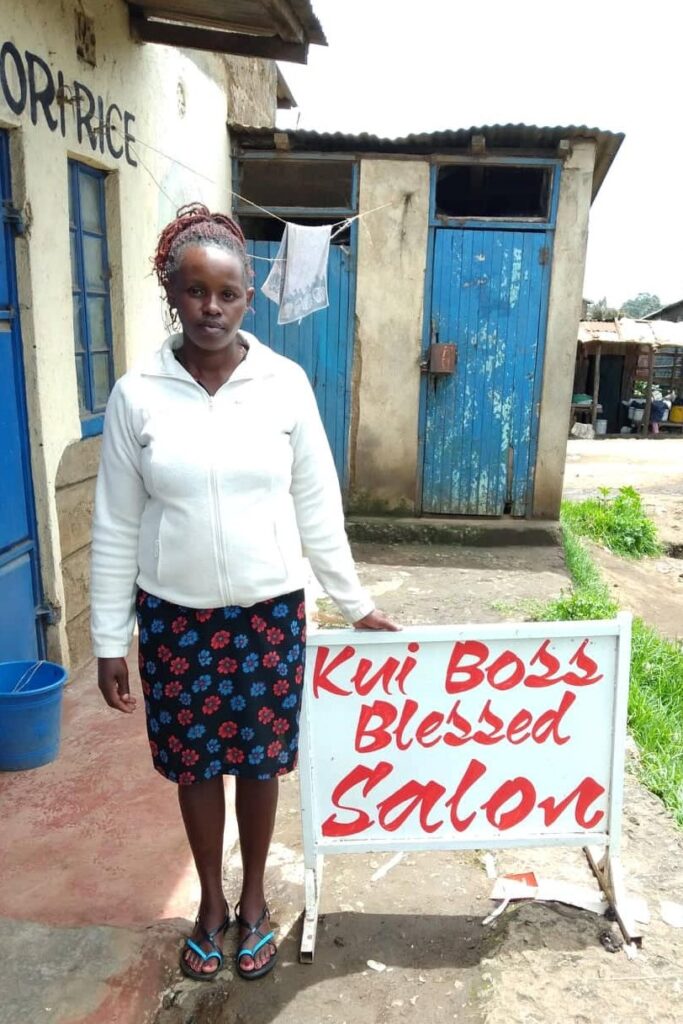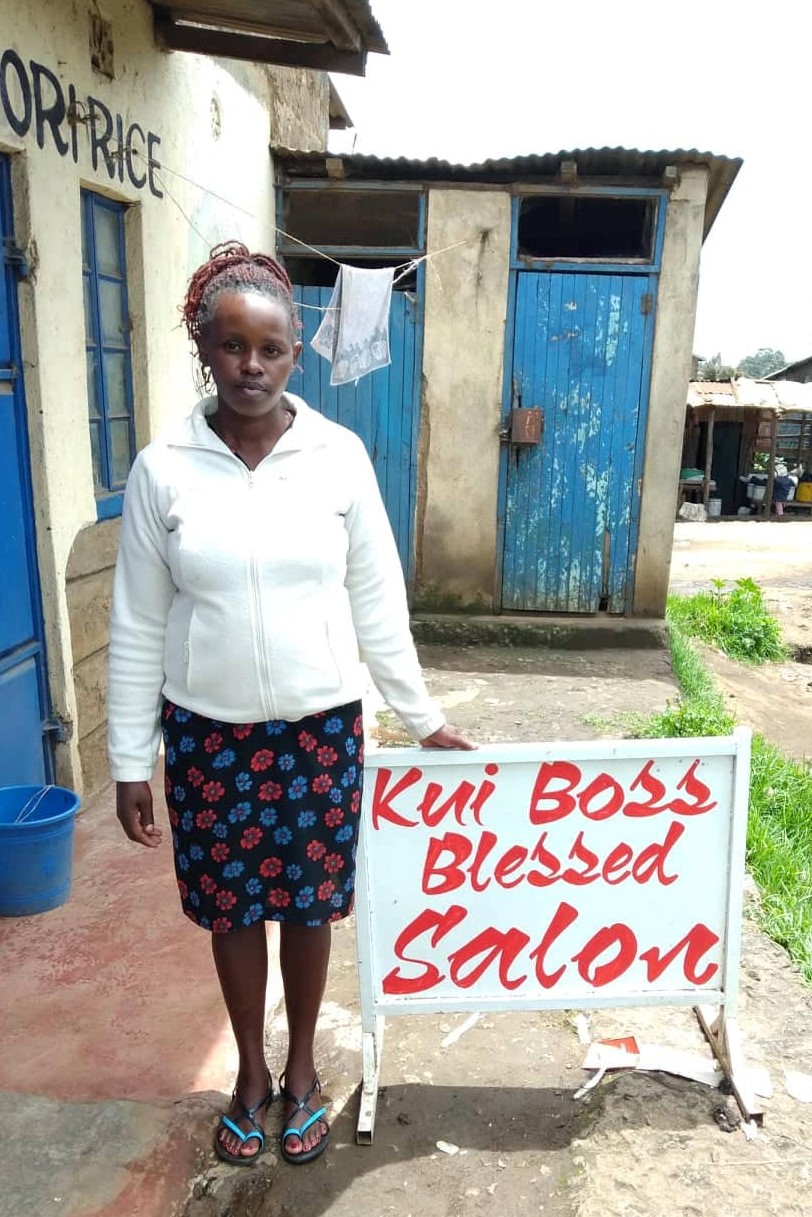 Grace is a hardworking, honest and self-motivated mother of four children. She plans to start her own business once her apprenticeship in hairdressing is completed. Grace was able to contribute 20% of the cost of her training from her savings and Hearts of Hope contributed 80%. Grace's trainer tells us that she is doing very well with her training and always tries her best. Grace is thankful for this opportunity and wants to train others when she is finished with her apprenticeship.
Here is Grace's story in her own words: "My name is Grace. I was born in Banana in Kiambu County. I come from a family of nine children, four brothers and five sisters. I went to Thindigua Primary School from grade one up to grade eight. After completing my primary education I stayed home with my parents helping them. After some time I moved to look for a job and I was employed as a house help where I worked for four years. From there I met my husband and got married in 2013. I moved to Matathia where my husband lived, and since then I have been in Matathia. I am a mother of four children. I have been desiring to take a hairdressing course but I didn't have the ability to do that."
JANE'S PLAN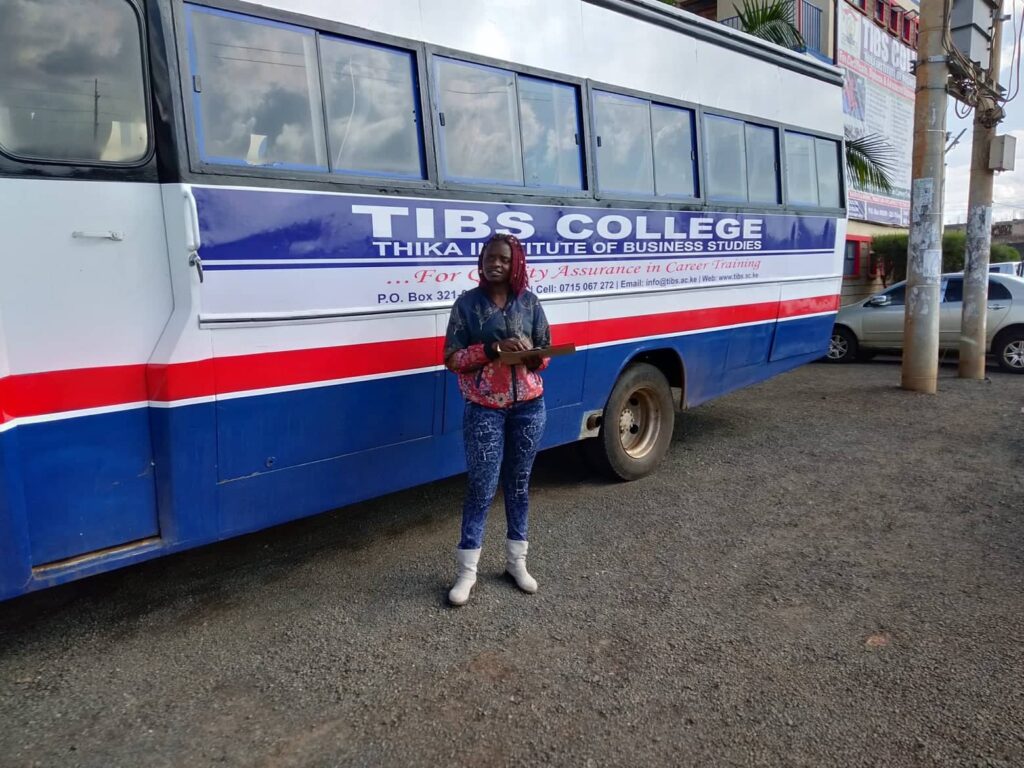 Jane has been a standout as a young woman who wants to study to repair refrigerators and air conditioners. She worked as a casual laborer supervised by an electrician in a workshop where they repaired refrigerators and enjoyed the work. She has a plan to set up her own shop and one day grant scholarships to others in her community. Jane will be in school for 2 years to earn her diploma.
Here is Jane's story in her own words: "My name is Jane. I come from a family of six children. I was born and brought up in Korio, went to Mbau-ini primary school and then to Mbau-ini Secondary school. I come from a humble background, my mother being single. She has really struggled doing all kinds of casual jobs to bring us up. After my primary education I was enrolled to a good High School but I could not join it due to lack of school fees, ending up at Mbau-ini Secondary. After my high school education, I got a C-. From there I started doing casual jobs, also I have worked in a hotel and as a shopkeeper. My goal is to work hard, go to college and get my degree, employ myself and others. Am doing casual labour whenever I get it to save money hoping to pay for my course. My dream is a technical course in air conditioning and refrigeration"
RUTH'S RESILIENCE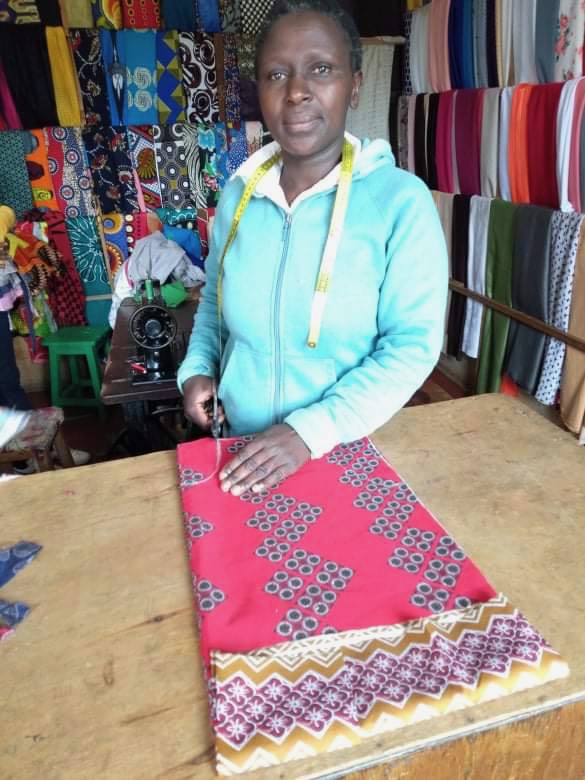 Ruth started a course in Tailoring on her own but had to drop out due to lack of school fees. We are thankful for Ruth's persistence to keep on trying and are privileged to partner with her in her apprenticeship training in tailoring. Ruth is able to pay 20% of the her school fees and Hearts of Hope International is paying the remaining 80%. Ruth's hope is to be able to find employment or open her own business in order to have an income to improve her family's standard of living. Since Ruth started her training, her trainer has reported that she never misses her class and that she is working hard and can be entrusted to do the cutting of the material for the customer's orders.
Here is Ruth's story in her own words: "My name is Ruth. I was born in Kiambu County, Kahuho village in a family of ten children, being the sixth born. I went to Kamongoni Primary School and completed Standard Eight. I later joined Kahuho High School where I studied for only one year. I dropped due to lack of school fees. I worked as a house help for one year and that is when I met my husband and got married. Since then I have been working in the farm at Matathia in our home. I am a mother of five children and I am a born again Christian."
MONICAH'S STORY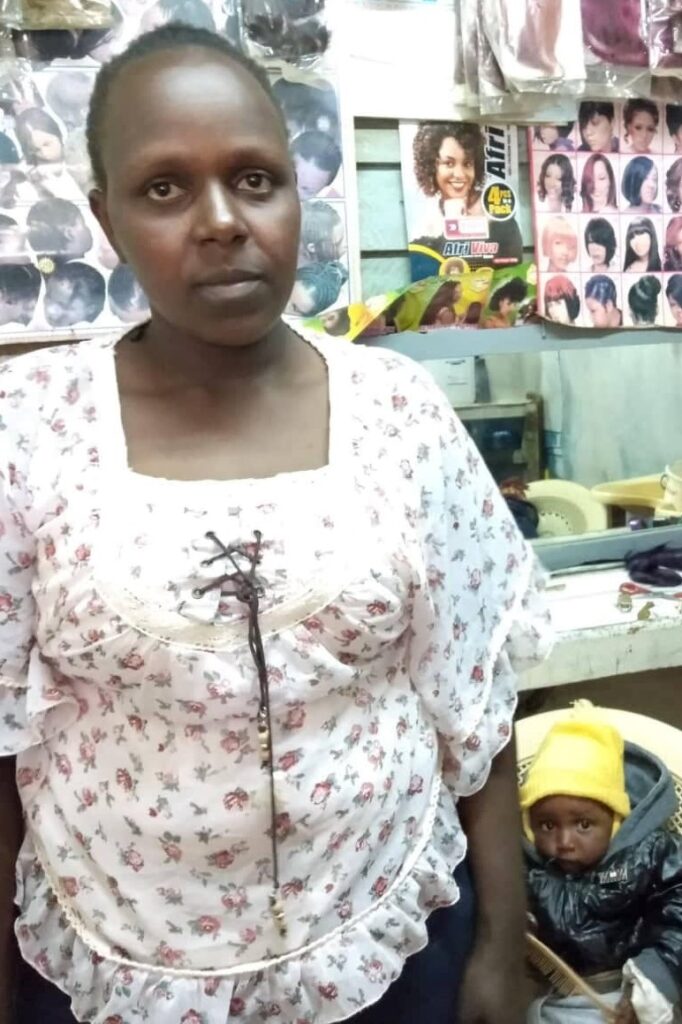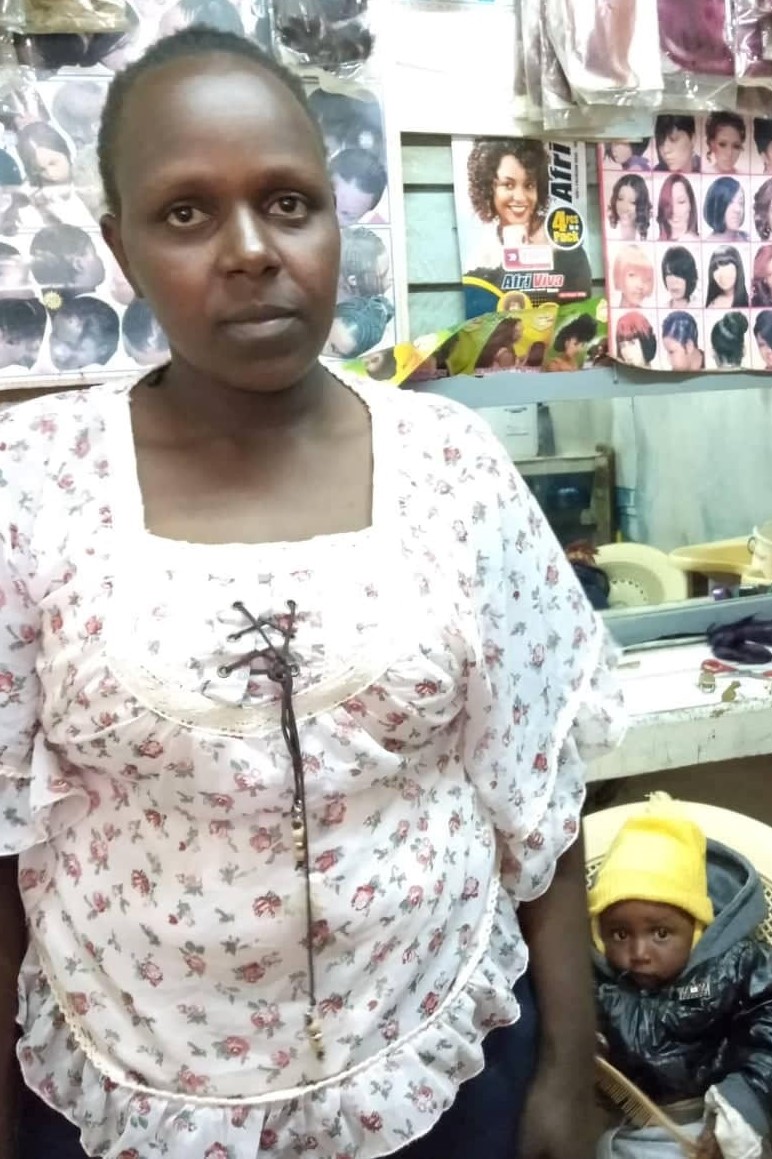 Monicah had previously started a hairdressing class but was unable to finish due to lack of money. We awarded Monicah a scholarship to apprentice with in a local salon. Monicah is paying for 20% of her training and our scholarship covers 80%. Monica wants the training so that she will be able to take care of her child and be successful in life. We think those are some pretty awesome reasons! We are thankful that the trainer is allowing her to bring her baby to class with her! Isn't he adorable?
Here is Monicah's story in her own words: "My name is Monicah, and I am a mother of one child. I come from a family of seven children. My parents are farmers. I was born and grew up in Matathia. I went to Matathia primary school and then went to Kimende Secondary School. After my secondary education, I took a computer class at Kimende. I have done several jobs in a hardware, in a hotel, in a timber yard and in an electronic store. My parents are not well up and they have struggled to bring us up. My desire is to have a course so that I can be able to take care of myself and my baby without burdening my parents, since I have other brothers and sisters. I want to be a salonist and be a role model to to the youths and also an encouragement to them."
PENNINAH'S PRAYER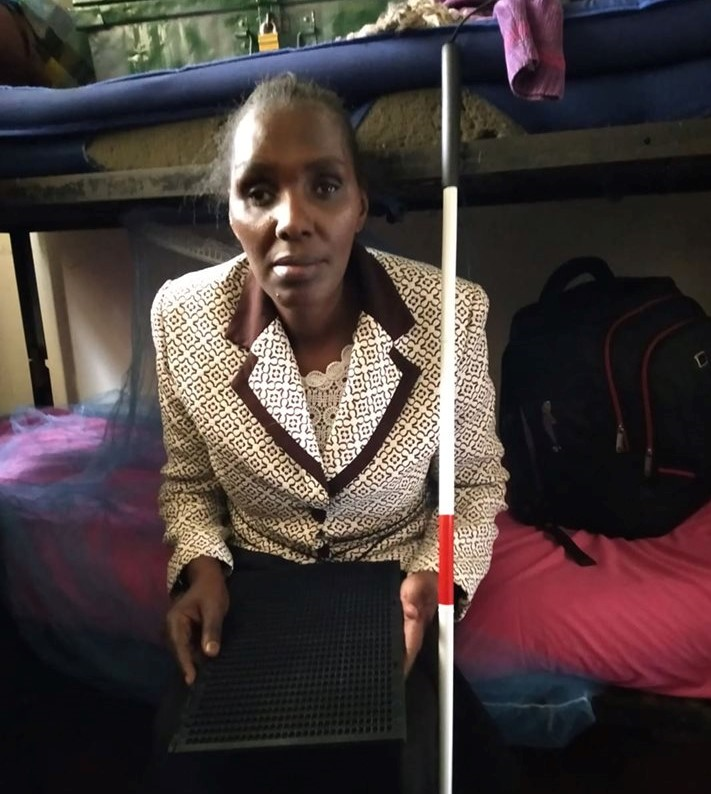 Penninah is a woman of persistent prayer. She lost her eyesight 10 years ago and has been praying since then for an opportunity to receive training to be able to support herself and her daughter. We were able to enroll Penninah in a school for the blind to learn Braille with the hopes of going on to learn to use a Braille knitting machine. Once Penninah has learned these skills she will be able to use them to support herself and her daughter.
Here is her story in her own words: "My name is Penninah. I come from Kijabe. I was born and brought up in Matathia village. I come from a family of three sisters and seven brothers. I grew up in Matathia, went to Matathia Primary School up grade eight. I then joined high school but dropped in form one ( grade 9) due to lack of school fees. Being out of school I started doing small business here and there. I later got married in 2004 and had a daughter in 2005. Life was going on well until 2007 when I started eye problems. I went to the eye clinic and would change this glasses to the other. In 2009 I changed the hospital and went to another, where they told me my retina is having a scar. They gave me a shot every week and after a short time my eyes could not see anymore. My husband left me when I went blind leaving me with my daughter. I have been going to clinic until 2014 when i gave up since there was no change. I now live with my parents at our home where i was brought up."
SAMUEL'S DREAM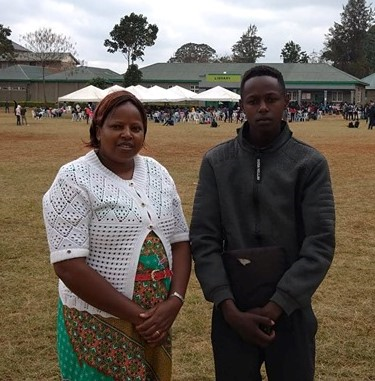 Samuel has a dream of seeing his community transformed and he believes he can be a crucial part of that transformation. We awarded Samuel a partial scholarship to study Medical Engineering at Kabete Polytechnic School. His family took out a loan from their savings group to partner with us in paying for the balance of his school fees. When he is done with his three and a half years of training, Samuel will be able to repair medical equipment at hospitals. Samuel is focused, determined and motivated. We are happy to partner with him in his education.
This is Samuel's story in his own words: "My name is Samuel from Kijabe. I come from a humble background, a family of three brothers and one sister.I went to Mbau-ini primary School and Mbau-ini Secondary School.I has been brought up by my grandmother since I was in grade four. I had a lot of struggles during my education due to lack of school fees, but God has been always on my side. He has brought me this far. I am a committed Christian who works with WOL( Word Of Life) to motivate young people. My dream has always been to pursue a medical related course. I has always wanted to do Medical Engineering, get a job and be able to help my family, and also people in my community My dream is to see my community transformed."