Our Partners
We believe that indigenous partners in Kenya are crucial to the success of our ministry. Plans fail for lack of counsel, but with many advisers they succeed. Proverbs 15:22 NIV

---

Pastor Joseph

Nancy met Pastor Joseph in 2014 while both were studying at Moody Theological Seminary. Nancy was studying for a Masters in Intercultural and Urban Studies and Joseph was studying for a Masters of Divinity. From the very beginning it was a divine connection. Nancy let Joseph into a locked building because his security key fob was not working. They struck up a conversation and the friendship began from there. Interestingly, the next time Joseph tried to use his key fob, it worked! In 2015 Joseph returned to Kenya with a God-given vision of opening a school to train pastors currently pastoring churches but without any formal theological education.
Pastor Joseph Wainaina is now the Founder & Director of the Word of Truth Christian Resource & Training Center. He also pastors an African Inland Church in Nyakinyua. Joseph and his wife Jane are the parents of two beautiful children, David and Grace. The Wainaina's live in Maai Mahiu where they are National Missionaries actively serving in the community.
---
Pastor Francis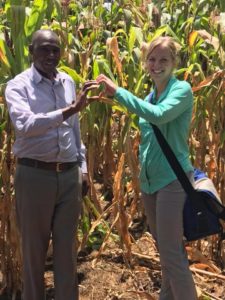 Nancy and Kevin met Pastor Francis on their first trip to Kenya in 2015. Pastor Francis, a Word Of Truth Board Member, had organically started doing ministry with widows and orphans in his home community as well as in Naiviasha where he pastored a church. His focus was on those that are HIV positive. In 2016, Nancy joined Francis in his community and met with many households that he was serving. It was during that trip that Nancy first felt a calling to partner with Francis in his work.
Pastor Francis Waweru attended Vision International University where he pursued a degree in Theology. He also studied Community Development at St. Paul University in Limuru, Kenya. Pastor Francis is married to Elizabeth and they have been blessed with three children, Lewis, Gertrude and Tasha. The family resides in Matathia, Kenya. Their home church is First Baptist Church of Kenya where Pastor Francis serves as an Administrator. He is also the director of Dorcas Orphans and Widow Ministry in his home community.